Karlín

Welcome!
We are opening soon...




Full of capacity for 2023 / 2024.
Welcome!
Dear visitors and possible applicants for our preschool and nursery in Prague 8 - Karlín, we welcome you to our website!
We do it with all our love
We are a bunch of people who love children. We put the children in first, second and third place. We know that the early years of childhood are the most sensitive period in human life. We want to give your children the best, to educate and pass on knowledge to them. We are a team of all ages but we have group of incredible professionals among us. We pay attention to perfect communication with the parents of our children. But most importantly, "we do it with all our love!"
Our preschool is really beautiful
Our preschool is brand new. We invested significantly in the premises, equipment and facilities, toys and educational aids.
Thank you, CA Immo Czech Republic!
Our preschool would like to thank to CA Immo Czech Republic. The dealings with this company were amazing, kind, and professional. This behaviour was so pleasant for our preschool, and we would like to transfer this level of behavior and care to you and your children in our (and hopefully your) preschool.
Other advantages of our kindergarten

Individual approach towards all children (even with possible individual educational needs) and towards you parents.
Quality food from BIONEA.
We accept kids from 12 months of age.
Varied activities.
Fulfilment of compulsory preschool attendance and possible entry to the primary school directly from us.
Opening hours
Monday to Friday, 8.00am to 16.00pm, Saturday and Sunday: 8.00am to 14.00pm.
School fee
4.720,- CZK / younger child / month.
5.760,- CZK / older child / month.
Plus 5.000,- CZK / child / month advance payment for food and hygiene needs of the child.
.
Staff
Only those who will inspire you and your children with their work and approach will work in our preschool. Nobody else. Do you know anyone who might be interested? Let us know!
Premises
Our premises are approved according to the strictest standards / legislation of the Czech Republic.
Capacities of kindergartens in Prague
The long-term Plan of education and development of the educational system of the capital Prague 2020 summarizes the facts of the last few years and also predicts developments in the area. The long-term trend shows an imbalance between the development of the metropolitan area and public facilities, with some urban areas facing insufficient infrastructure. An example is the unavailability of kindergartens and primary schools in areas where new construction took place, where young families in particular went. An example is the Prague 9 district.
Registration / enrollmen
Are you interested in our offer? Make your own online registration HERE . You will immediately receive an email confirming receipt of your registration. (Security deposit of CZK 10,000 NOT within 3 days of registration, but after you sign the contract; not before we meet in the preschool.) The deposit serves as a confirmation of the seriousness of the interest in concluding a contract on the child's attendance. This is not a fee for registration. The security deposit can be settled at the end of the child's attendance at the preschool. If you decide not to sign the contract, we will of course return the full amount to you.
Dear parents, dear mothers and fathers. We are already looking forward to you!
Maxíkova školka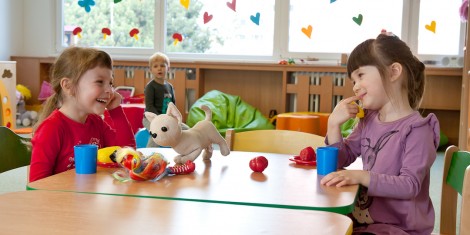 Welcome
We are a private facility providing pre-school care for children from one to seven years of age. Our priorities are a high standard of service, quality staff and a varied healthy diet.
Show more Show less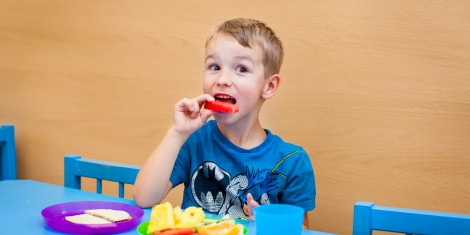 Meals
We are aware that what we eat from childhood shapes us, and affects our health and well being. Diet and eating habits that we adopt as children accompany us throughout life and shape our lifestyle. That's why we decided to offer a healthy menu for your children. BIONEA and CountryLife are among the leading service providers from the region.
Show more Show less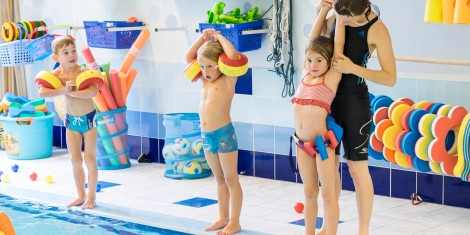 Activities
The type and number of activities depend on the season and number of children in each age category. Among the most popular activities are: swimming, tennis, horseback riding, gymnastics, sports and movement lessons, music lessons with flute, and of course summer field trips / ski courses... The exact list of activities is to be announced shortly before a new school year begins.
MaxTip: Most of the activities are included in the price of tuition!
Show more Show less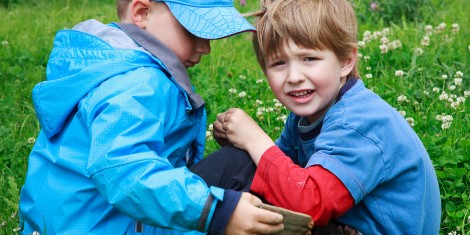 Photo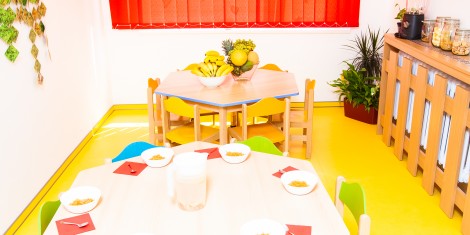 Back to other branches